If we asked a young person under 30 which apps he would never give up, what would he answer? Taking for granted Instagram e Facebook the least expected answer is TikTok.
Yet the data tells us that since its launch in September 2016, TikTok has reached the one and a half billion downloads. Only in 2018, TikTok has been downloaded 663 million times. For comparison, Facebook has been installed 711 million times e Instagram "Only" 444 million.
Who defines TikTok as the "social media for thirteen years", He is very wrong.
It is true that many of the active users on the platform belong to the so-called Generation Z but you will be surprised to discover how, contrary to what you think, TikTok is the tool they have bet on and they continue to target many companies for their marketing.
Before we get to talk about how to do marketing and show your brand on TikTok in an effective and original way let's go and see how it was born, how it works and the reason behind the success of a social network like TikTok, which at just 5 years old already has record numbers.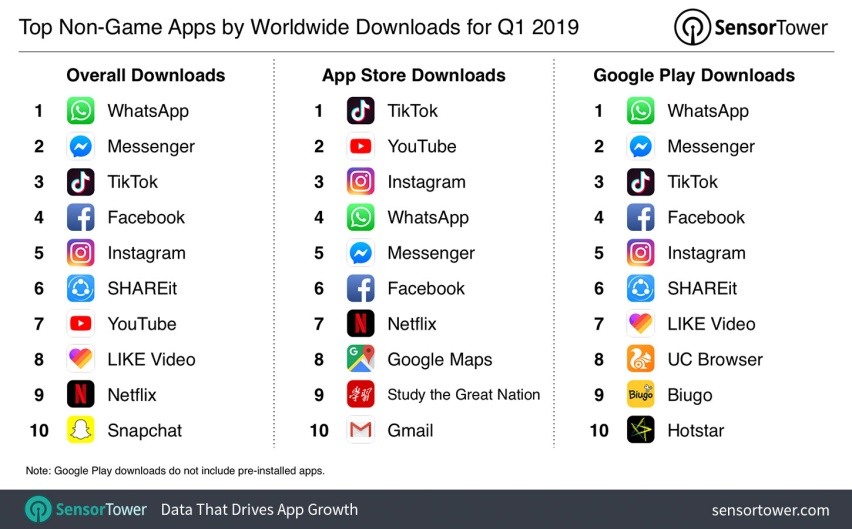 TikTok: the innovative idea of ​​focusing on visual and multimedia content that comes from China
Produced by Chinese company ByteDance, TikTok is a social network based on the creation of videos of up to sixty seconds from a backing track.
Also note as douyin in China, TikTok is a social network launched in its first version in September 2016, with the name musical.ly, and consisted of an app that allowed you to share karaoke videos and choreographies.
The real success however dates back to September 2017 when ByteDance decided to merge the TikTok and musical.ly platforms through an update in order to broaden the user base, keeping the TikTok name.
Since that time, users using TikTok, known as musers o tik tokers, they began their rise to success and popularity.
Today the platform has a very rich music catalog, which users can use as a background for videos of all kinds: there are comic pieces, challenge between users (gamification), clip who aspire to become gods meme, ballets, lip sync and so on.
All the functions of TikTok can allow you to create videos that often reach several thousand views within a few hours.
Imagine creating, in less than 5 minutes, the video of your latest product and that it, in less than 24 hours, will be seen by a thousand potential customers, you would have given life to yours. best advertising campaign ever.
TikTok is all about images, multimedia, visual creativity and the ability to amaze, amuse and excite. All this in less than 1 minute.
Create an account
Like any other app, TikTok goes too downloaded from the digital store (Apple Store o Play Store) and installed on your smartphone. At the first access, to go to registration, just press the "Mio"And then on"Sign Up". The procedure is simple and completely guided:
The name: this may already be present and associated with other profiles in the TikTok databases but it is not a problem for registration purposes.
Then it will be the turn ofUsername or tag, which must necessarily be unique for the new profile because it will be the means by which the latter will be identified.
Will be required email, verification of it and one alphanumeric password.
At this point the profile is ready and all that remains is to make it personalized and in line with your personal brand with some additions like:
A picture profile centered and adapted to the required dimensions.
Alternatively, you can enter a video profile, add a new one or choose one of those previously published on TikTok.
An clear and immediate biography that does not exceed 80 characters.
Associate TikTok account with profile personal data already present on other platforms like Instagram and Youtube.
Start to follow our friends, acquaintances, followers, VIPs and idols, just like we would do on Instagram.
The profile is finished, now comes the best: create original and visually stunning content with TikTok!

TikTok's graphics hide many of its strengths
La Dashboard of TikTok, exactly like those of the social networks we are used to, is composed of multiple screens which can be recalled from the horizontal bar at the bottom:
The first icon on the bottom left is called Home: on the TikTok Home they will be displayed in chronological order first the videos made by users followed by us and then the contents of users who are not part of ours Following, but that according to TikTok's analysis they might be to our liking and therefore could be added to the people we follow.
The same goes for our profile, ours TikTok will also be shown on the home of users who do not follow us: here is one of the secrets of TikTok revealed!
The second icon always on the left is called Discover, as both the name and the lens icon suggest, serves a discover new users to follow, to find with the function "search" friends and acquaintances through their usernames. Also this screen allows you to stay updated on the latest contests, the most recent challenges and the most successful filters, as well as on viral TikToks that you absolutely cannot miss!
Participating in the challenges, using the hashtags of the moment, commenting and reacting successful posts increases the visibility and popularity of your profile and consequently the visits and followers.
The first icon on the right Me is the one that refers to your TikTok, from here you can create new profiles, modify existing ones, keep an eye on followers, likes and views of published videos.
In the next section, called inbox you receive the notifications about new followers, likes received or new trend challenges that might interest you. The paper plane, similar to Instagram DMs, top right, indicates the TikTok chat, where to exchange private messages with other users.
We arrive at the central button, the black, blue and fuchsia button (characterizing colors of the TikTok theme) with the + symbol. This is where the content that you will then publish in your profile will take shape.
Create multimedia content and make it viral
The magic word for TikTok success is only one: creativeness.
TikTok likes it because it allows everyone, even the less experienced to video making and video editing di bring out your talent e give ample space to the imagination.
The types of content that can be published on this platform are numerous. Let's go and see some of them:
A very popular form of TikTok used mostly at the company level è the sequence of images. Scrolling multiple images one after the other allows you to show multiple products or the same product from multiple angles.
Let's see how to create a sequence of images using the tools that the app makes available:
Choose photos: Photos can be selected from the box at the bottom right (upload) choosing the option multiple or by choosing gods photo templates already preset. The choice of photos must also take into consideration any background music.
Choose the music: Once you have selected the photos, you go to the video editing screen, where possible select a song or background sound from TikTok's music libraries constantly updated with the best of the music scene.
Choose effects and transitions: in the section Effects can be added visual effects as it is zoom, graining, the aged effect and many others. There is a wide range of stickers as well as different image transition and screen splitting mode.
Add a text or a gif: in the last two sections we find the option to add text with various fonts and styles which can be positioned at will on the images, the same goes for gifs.
Add filters to images: images can also be edited with filters that work on their brightness and saturation.
The decidedly more innovative tool that has made TikTok an app for all tastes is the creation of unedited videos by true video making professionals.
I TikTok videos cannot be longer than one minute, that's why the app makes available two recording modes: one from 15 seconds and the other from 60 MAIN CORSE.
Video can be recorded manually by holding down the center button or by setting a timer so that you have full freedom of movement.
Also you can go to change the recording speed slowing down or speeding up the video up to a maximum of 3 times the original speed.
You can apply filters and effects already at the time of recording, as well as select the song already.
One of the types of video that has become hugely popular on TikTok is lip-sync. This involves creating a sketch that has a song, the voice of some famous person or a quote from a movie as the background while you are interpreting it, perfectly synchronized, so that it sounds like your natural voice.

Caption, hashtags, tags: everything like on Instagram
The last step before publication consists, a bit like on Instagram, when inserting a caption.
Here too it is important that the caption is captivating, smooth and direct.
TikTok is certainly not the place for monologues. Short descriptions pay in a social network mainly based on visual impact and which includes a description of up to 140 characters.
However, for the post to be viral it is necessary use the famous hashtags. As for Instagram the rule of do not choose overly inflated hashtags but try to re-enter niche hashtags and allow the post to appear among the first for that particular category.
If the video is made with other users these can be tagged in the caption but be careful, TikTok does not allow you to tag yourself so it is always better to use a hashtag to quote yourself.
At the end of the screen, the sharing options which can be posts by Instagram and Facebook, Instagram stories and whatsapp. Of course, the video will also be saved in the smartphone gallery.
TikTok for companies: transforming viewers into customers
Here we are at the focal point of using TikTok. At the moment we have only talked about the fun and original side of this emerging social ma what are the real benefits for users and why do more and more companies also use it for commercial purposes?
Food brands (Chipotle e The Bailey Bakery), of beauty (Fanty Beauty, Mark Anthony e Hero Cosmetics) or clothing (Nike, Guess e Ralph Lauren) have created their own space on the platform. Not to mention Google e Coca-Cola who are trying to establish themselves thanks to a clever mix of hashtags, videos and influential characters, which generate a wave of new videos from users.
An opportunity for brands, once again, comes from'influence marketing.
While waiting to create their own content, disseminated with an entirely dedicated channel, companies can exploit famous and popular characters to break into the audience.
A healthy mix of content (created by the brand and generated by the influencer) is the best way to inform, entertain and engage your audience.
Whichever way you decide to use Tik-Tok for marketing, one thing must be clear: creativity is a must.
The biggest mistake you can make is to use this social network simply by adding it to the list of channels you are already subscribed to. Copy and paste here of the same posts that you post elsewhere is a waste of time that will not bring any real results!
If you want grab attention of Generation Z, you have to be ready to go further, dare, reinvent yourself from post to post. Or better than TikTok in TikTok.
Having just one minute has both positive and negative aspects. If on the one hand the short duration allows you to avoid that the video is skipped because it is too long or sent forward quickly (as often happens on Facebook or YouTube), on the other hand, expressing yourself in just 60 seconds is a challenge that is anything but easy.
All the more so in a social network where the imperative is: be authentic.
Creativity and authenticity: these are the two keywords on which to base your marketing strategy on TikTok.
It's not exactly the easiest thing to do. Especially when you run a business and don't have the time to devote to such activities. TikTok is effective if used consistently and if the feed is always updated and fed with new and captivating content.
Here because this activity can be entrusted to a digital marketing agency, able to create trendy videos riding the news of the moment and the new exciting challenges.
To reach your future customers you can continue to do "knock Knock" to their door hoping it will open, or make a TikTok and pierce the screen!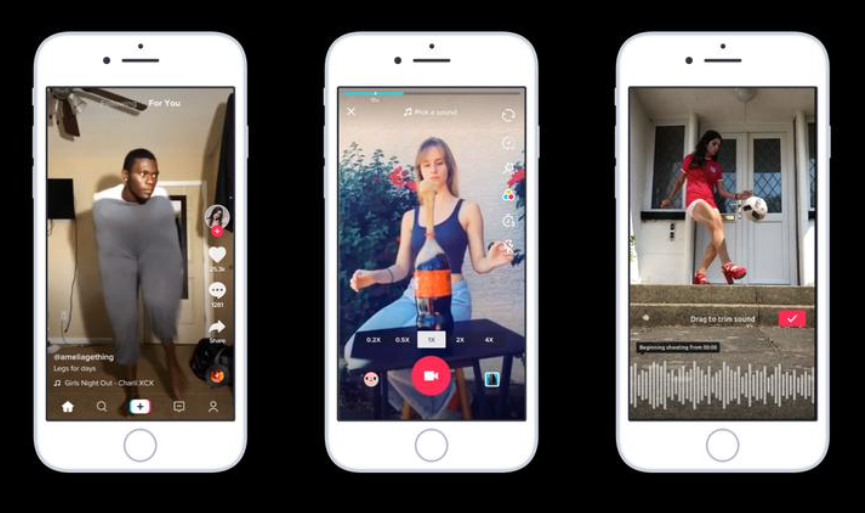 See all
Viva Digital ™ services