Seo campaigns and positioning on search engines
Positioning the right keywords and increasing conversions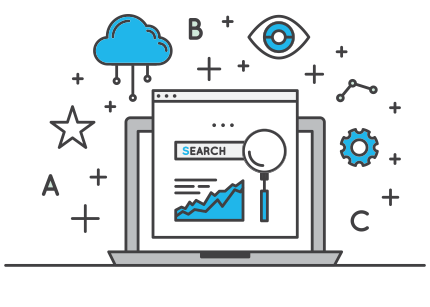 The basic strategy includes: 
analysing the project carefully in order to understand the potentiality of the field and of the single keywords is fundamental to define the right strategy. In addition to this, competitors will be analysed to understand and exploit the new trends in the field. The analysis activity is constant over time and is needed to keep the sector monitored.
our strategies are studied based on the sector they belong to and demonstrated by the results obtained. When a strategy is successful in a certain field, we reply it for other similar sites, in order to achieve similar results. Each field has its own characteristics and it is important to identify them before starting.
All pages of your site will be optimized, both the code and the contents. The goal is to identify and improve what badly affect search engine rankings. This activity will make the site suitable for engine algorithms and will improve its positioning.
New contents and articles will be created in order to be inserted in the main pages of the site and in the blog. The creation of always up-to-date and quality content is an important element to demonstrate the quality of the site to Google and to outdo your competitors. The contents already present on the site will be reviewed and improved
Quality links will be created on external sites (link building) that link to the customer's site. This activity is essential to position yourself better in the search engines. The quality of the sources used and the strategy used make the difference between a well-done campaign and a DIY strategy
Positioning and Analisi Analytics
To always have an overall and specific view of the progress of the project, Google Analytics will be analyzed to identify traffic sources and user behaviour on the website. In addition, the positioning on the engines will be monitored to get an overview of the progress of the project.
Analytics Analysis and Placements
In order to always have an overall and specific view of the progress of the project, Google Analytics will be analysed to identify the sources of traffic and user behaviour in the website. Furthermore, the positioning on the engines will be monitored in order to get an overview of the progress of the project;