"Producing with honesty to pass on to future generations, building wooden furniture
solid wood able to challenge time in full respect of the environment".
This is the thought that guides and motivates every daily action of Riva 1920, the Italian company specialized in the production of wooden furniture solid wood with a classic style.
Born from a small family-run artisan shop in the city of Cantù, Riva has made its way over the years by becoming partners with several well-known designers and a success story of Viva Digital.

Can we start with a brief description of your company?
The company is a small spa located in Cantù that owns three small factories and, in my opinion, an excellence that is our showroom, which houses a museum with more than twelve thousand pieces ranging from 1750.
The room where we are now houses the Pangea, then we also see a siloteca, a materioteca, a marble library and a large library with a lot of books. This room is a space that we use to make calls, but above all it is a space that hosts, as already mentioned, the table I am at and another similar one behind me, very large and fragmented which is precisely the Pangea Quest ' last was presented in pavilion Zero and built in cowrie, a fifty thousand year old wood with under the earth's crust made with briccole of Venice. This is a great thing for us, because our company has been carrying on the culture of woodworking for years and years.
Our business idea is based on produce to pass on. We only use forestry woods, we try to give them a second life without going to deforest ourselves in the first step, but we also face complications sometimes which, however, in the end turn out to be solvers of this difficulty. For example, we pour resin on boards of about forty / fifty thousand years and, in doing so, we safeguard the wood, using these for sizing, when instead the whole board is perfect and is dedicated only to making wood.
We have therefore taken a step towards the environment for thirty years, therefore we do not even use formaldehyde to make our products.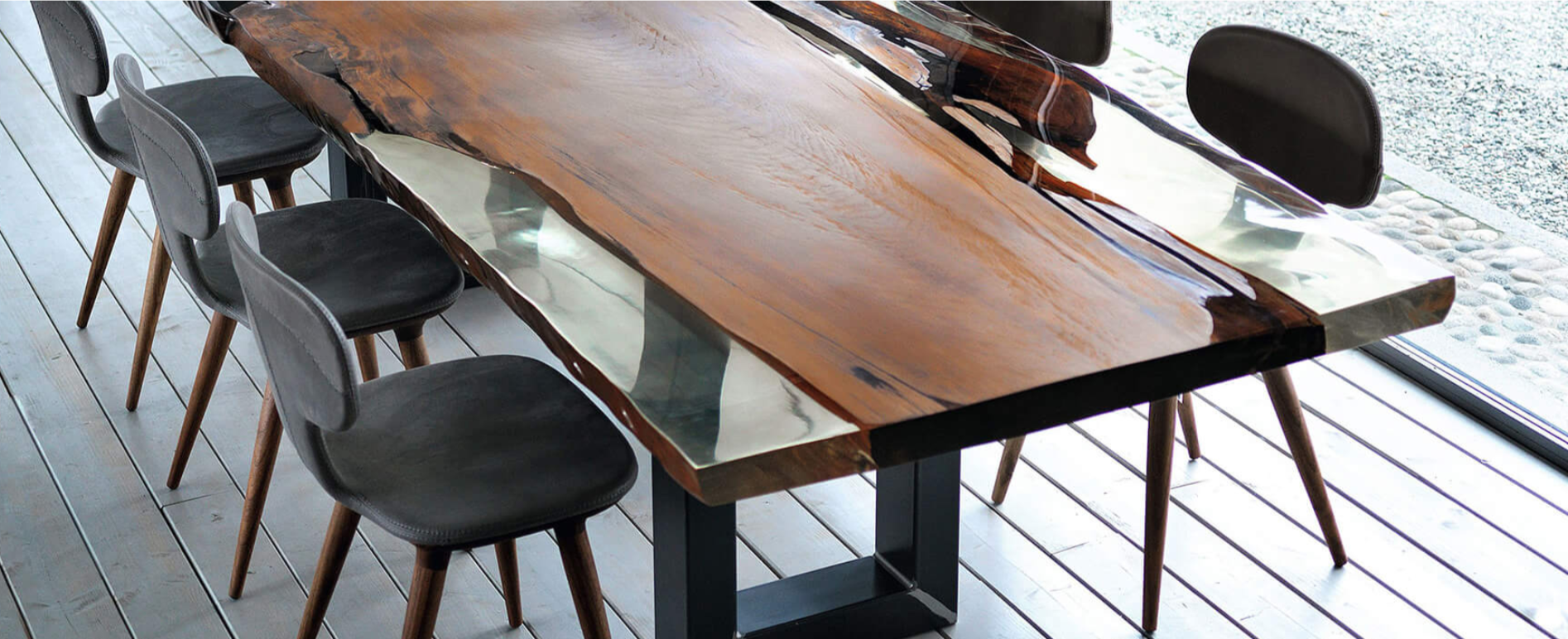 Is this room that you described so well and so interesting to me accessible to the public and do you allow visits, or is it dedicated solely to company meetings?
We have meetings here, but for example, three universities will come to visit us in a fortnight.
We can say that we welcome everyone and, indeed, if I have the opportunity, I too speak to us so as to try to convey the desire to work with wood and to follow our thinking, which is to produce to pass on with quality.
I call myself a carpenter and I am sixty-eight years old, I still want to leave something. I think any human being who can leave something for the next generations, he must do so to ensure that, ultimately, when he leaves this world, within himself he will be happy and satisfied that he has done something good for others.
In any case, by booking on our site, it is possible to make visits for schools, while for people who come here individually or even in small groups to take a tour, it is possible to enter even without a reservation. For security of availability, we recommend that large groups make a reservation before joining us for a visit.
How was your company born and what are the leading products at the moment?
The company was born in 1920 by my grandfather Nino and later carried on by my father, now I drive it. When I joined there were three people and then the company expanded. To date there have been some changes, a Hungarian fund has joined, even if it does not have a majority.
The leading products are varied, having several factories. In a factory we produce tables, in another, cedar trunks and, in the last, furnishings. We have different products in each small company and each features products that are stronger niche than the others. For example, in the factory where we produce tables, we have tables designated by Renzo Piano, Mario Botta, Farina and, in particular, a very strong piece by the architect Duan, then we have a clothespin that acts as a bench and decoration in the houses that can stand even out under the water since it is made of cedar. These can be defined as our strong products.
You are in a very important area for this sector. What, in your opinion, is the characteristic that distinguishes you from the competition?
Very important fact that certainly distinguishes us is that we do not use slips and paper. We still border all the products with solid wood just like my grandfather did, we use anti-vinyls and then, for thirty years, we have finished the furniture with scented oils with pine and orange extracts. Let's carry on this fight of remain faithful to traditions, unlike many companies that produce today and use with slips and paper.
We have our own specificity which is to use Venice briccole in our products. Another thing that only we do is the processing of the cedar in logs, which otherwise would have gone to pulp for more than 90%. Then we invented the use of kauri, coming from the other side of the world. We also recently received a wood called Giarra, which in aboriginal means blood.
Then I did this one and a half year operation with about 180 San Patrignano carpenters, where we opened the exhausted barrels and made products in collaboration with great designers such as Citterio, Terituana, Mario Botta and Farina. We will pay six percentage points of sales fees to San Patrignano to help the community and make our contribution.
Who is your typical customer?
Our typical customer is primarily the reseller, then we have total flexibility having customers all over the world, we export to Japan, America, China and Russia.

What are the future projects?
The future is a big unknown because, as we know, a war is underway and, even if in the meantime we are recovering from Covid, we cannot have certain forecasts on how these events will evolve and how they will impact our lives. At the moment, I can say that our future as a company is to present ourselves at the Salone del Mobile with new products and to carry the message that something must be done, we cannot go on destroying our way in any form. Even if the future is uncertain, we are working and we try to bring materials with as low a negative impact on the environment as possible and we continue to send a message of peace and sustainability, which in this historical period it is even more important to exalt.
How is your company dealing with the issue of digitization?
I'm not very familiar with social media, but our company has thrown headlong into digitization. We no longer believe in the success of print media, while we strongly believe in the potential of digitization, we invest a lot because we believe it is the future.
What marketing strategies do you plan to pursue for the future and what goals do you have in marketing?
You have to become strong in the market through resellers, find very good resellers. The team also makes a difference, so we have a world export manager, an Italy manager, an export manager Europe, we have a social office and one for communication and graphics.
At the moment we are engaged in some projects, we have set up a collaboration, it is a virtual fair. We have an agent in Canada and we are looking for some companies specialized in Italian design in Canadian cities with a population of over two thousand, to send them a letter and introduce ourselves. In this way, these Canadian companies will at least know of the existence of our brand, this is for us like attending a fair. I now believe little in fairs, if not in the Milan Fair. This is the new way to introduce yourself and let other companies and people know about our company and convey our message.
Do you have a last message that you want to leave, or a wish for your company before concluding this interview?
Yes, I want to throw a very important stone, because it is a bit what I went through and I am going through. Be very careful not to expand the family's mesh too much within the company and to always define roles well. Remember that first it is necessary to make the company go well and then, only at this point, what grows can be brought home.
It is absolutely important to work together and deal with professionals, but also be careful and don't trust anyone. Nobody wants to work with characters who take the company as the everyday jackpot.
A final message that I want to convey is that I find a surreal madness what is happening, the world needs to move in another direction. We are being destroyed and the situation must have changed. Italy also requires to review some regulations, it is important to give more money to the employee and more rights to the entrepreneur. I end by saying that I hope the war will soon end and that I want to commit myself to to help future generations with great seriousness because we cannot go on like this.
See all
Viva Digitall® services