Born from the desire to provide solutions suitable for tender four-legged friends, in the course of our long collaboration cucciolotta has decided to extend the innovation of its products also to the farm animal sector, presenting itself to its customers with two different web platforms that fully express this duality, managing to maintain a single corporate image.
cucciolotta for which we manage the social page, the web infrastructure and the SEO positioning is one of the Viva Digital success stories which has even led us to recently open a second website completely dedicated to the sale of products for poultry, given the exponential growth occurred in the last years of the project together.
How was Cucciolotta born and what does it do?
Us Savior e Francesco Polito and our company produces hpl products. The idea was born from the need to create a kennel for us, for our home. A kennel that does not get damaged or absorb odors, which is very common with wooden kennels precisely because of the material they are made of. At home we had this HPL that we worked for pharmaceutical companies, so I decided to build the first kennel and this material turned out to be really excellent.
You noticed a problem, you assumed that it could also be a problem for others and then you tried to solve it, thus creating your first prototype.
Exactly, I had bought several kennels but the dogs destroyed them or in any case needed constant maintenance. I painted them, put the nails back on, but in the end they always came apart. At this point the only solution was to try to build a home made kennel and having some material available I tried. The results were really great, so my friends started asking me to build one for their pets too and so it all started. Then other products were born from the kennel, such as chicken coops.
So in addition to the kennels, do you also have other products? How were they born?
The material we use is very special. It is also used in furniture, to make kitchens or in spas to build bathroom doors or cabinets, because it is a material that does not really absorb moisture and consequently does not deteriorate.
Seeing the results we have expanded the range of products to meet customer needs. So starting from a single kennel model, we have developed other models, such as indoor kennels, nursery (delivery boxes for dogs and cats), bowl holders and many others.
Then we have moved on to another world because we thought that material could solve other problems as well. We are dedicated to another category of animals: poultry. We tried to design a chicken coop, following in the footsteps of the kennel, and we found that the qualities of the material were perfect for the needs of these animals as well. Again we solved a big problem that farmers faced, because usually the chicken coops are made of wood, which has a good thermal seal but has a lot of problems, such as mites that manage to infiltrate the cracks. This mite is the main problem of breeders, because the mite attacks the house and consequently also the animal, causing in some cases even death. Obviously, therefore, pet owners are very sensitive on this issue.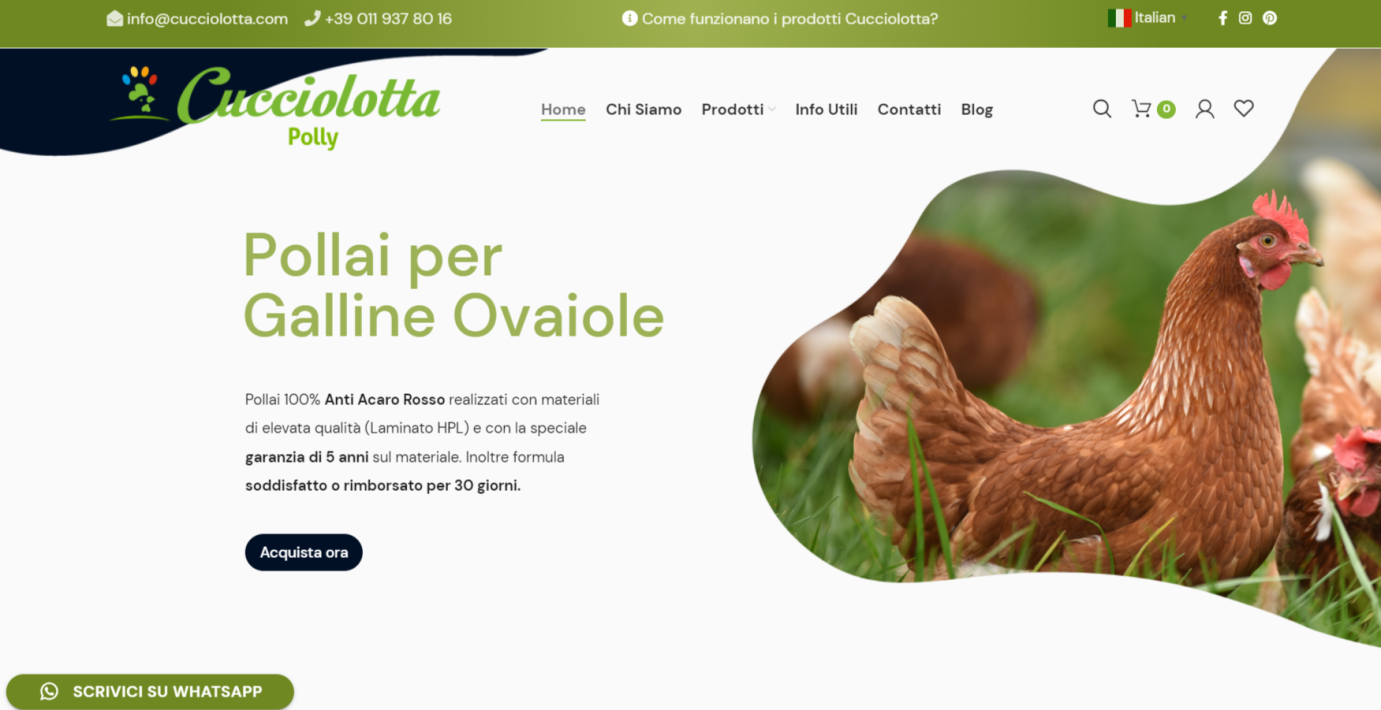 Did this solve the problem?
Thanks to this material, the hpl laminate, we have not only solved the mite problem, but we have also met other needs. Our projects have been designed for simple shipping, quick assembly and disassembly of the product (with the interlocking system of the panels), easy opening, simple cleaning. In addition, they can be moved easily, because the products can be easily assembled and disassembled. Our product has many advantages: it is of high quality, it is robust and resistant to direct weather, it does not deform and does not suffer from humidity. In addition, maintenance is reduced to almost zero. It is perfect both in the field of pets, but also for farm animals.
Is the durability guaranteed by your company?
We have a 5-year product warranty, even if in reality our first prototypes have exceeded 10-12 years of life. We still have them and they have not suffered any problems, so we give a 5 year guarantee but if the product is well treated it lasts much longer.
If a customer decides to buy a wooden chicken coop, how long would it last?
There are very thick chicken coops and thinner chicken coops, both of which are made of wood. However, from what we have found, even the highest quality ones after 6 months would be damaged because they are impregnated with odors, or because they cannot be washed, or because of violent storms. There is no comparison of quality in terms of material, with what we use. We can say that we have created a new category, a revolutionary product. The sore point is the prices because of course it is an expensive material, much more than wood, but the quality-price ratio we offer is unmatched. If we spread the cost of the product over the life of the product, which is much longer, it means making money. Furthermore, animal health is the first thing they benefit from, as they live in a cleaner and more disinfected environment.
Here is an example of an anti-mite chicken coop produced by Cucciolotta:

What is your flagship product currently?
Certainly the garden chicken coops they are working very well, especially throughout Europe where, however, domestic breeding is a practice that has been used for many years, perhaps even earlier than in Italy. They have already experienced the problems on the materials used, the metal is more resistant but over time it rusts and our chicken coop is finding great acclaim throughout Europe, in the last two years we have mainly exported a lot. Those who try our product never go back, the initial approach is not easy because it is a more expensive product, but those who have tried it continue to buy it back or recommend it to friends. Reviews are only positive.
What is your strong point? What distinguishes and identifies you?
In our staff there is an architect who takes care of the development of the projects, and the most important thing for us is that the products must be functional for those who use them daily, it is not just the material but a set of things that we try to perfect . It must be within everyone's reach so that even one person can mount, clean or move it.
Animal health is another important point for us and their safety. There are many predators that attack chickens such as foxes, wolves, etc. so our chicken coop is also safe from that point of view. In the last two years we have added a new door with bayonet coupling that once closed cannot be opened from the outside unless a man intervenes.
We have been working on this project for many years trying not to leave out anything, and we always try to improve it, as the best companies do.
What sets us apart is that we design, produce, pack and market everything ourselves. Also, having had previous experience in material processing, we know how.
Are we talking about that famous Made in Italy that is tempting to international markets?
Oh yes, our architect is the key to everything, when he assembles a chicken coop or a dog chair it is a spectacular thing, enjoy when he assembles a product because you say "but how did we make it"? Before putting a product on the market, we make many prototypes, many we fix or redo them. It is not easy to create a functional product suitable for everyone.
Who is your typical customer? Both for chicken coops and kennels
They are customers who have already bought products with which they were not satisfied and are looking for something that goes further. This is why they come across our products. They are looking for design (our products have a quite attractive design) and quality. All the features are expressed through our site and capture people's attention precisely because this material offers many guarantees. Our customers are Italian, but in the last two years trade with many other European countries has developed a lot.
Based on the feedback you have received from your customers, what is the first benefit you would mention? What do you hear most often? And what makes your heart warm?
La ease of assembly. Everyone says "I didn't think it was that easy to assemble", but also the sense of robustness. When you buy a low quality product, the images may deceive you and when you mount it you immediately notice its fragility. Customers immediately notice this, that the product is very robust and very resistant. Our chicken coops vary from 40 to 100kg so compared to plastic products the difference can be seen.
Working a lot with foreign countries another positive thing is the packaging of the product. The chicken coop is heavy and must be transported on pallets and wrapped in cardboard and internal packaging that preserve its transport. We have worked a lot here and we are recognized a lot by customers.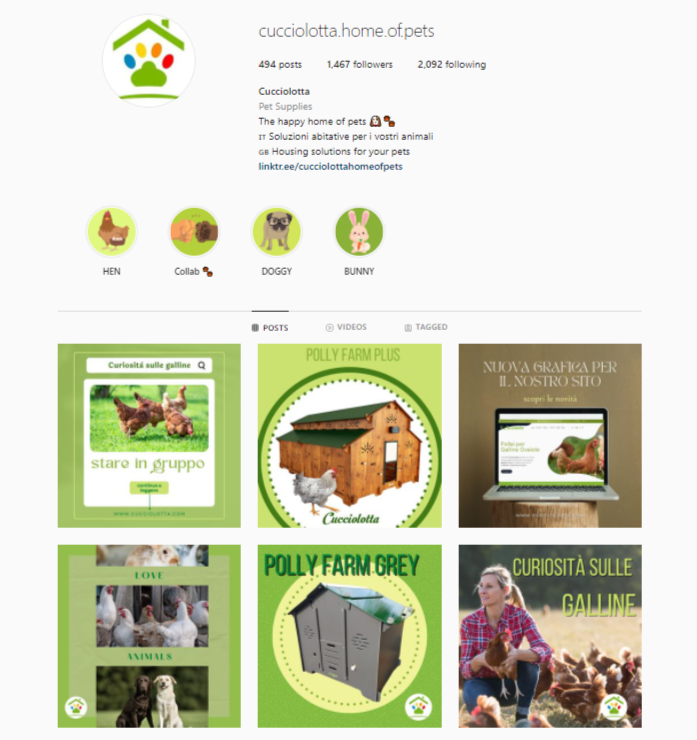 Let's change the subject and talk a little about your company. How are you organized? Where are you? What company is it?
The company is located in the province of Turin, in Giaveno (Piedmont). We are still an artisan company, we are 10 people in all and we are organized to carry out the complete production of the product. Raw materials arrive from suppliers and we transform them with numerical control machines, even quite important ones, and we have specialized workers both for the management of the machines and for other manual jobs. The product is very artisanal, for which some parts of the are precisely worked by hand, especially as regards the details.
Can we say that it is a complete company, where there are administrative offices, design, the workshop, the warehouse, all in one structure?
Yes, we have a shed dedicated to production and we have another shed dedicated to the warehouse, where there are both the raw materials stored and the semi-finished products and where there is staff in charge of packing and shipping the orders that are sent daily.
We have a fully equipped workshop, from lasers that can mark and cut, from pantographs that work the HPL sheet in one go, then we have the quadriconia UV printer to make the plates. We do everything ourselves, we do not depend on others.
In what year was the company founded?
IT Design was founded at the beginning of 2016 even if we inherited the products from another company that had been working since 2011 so in reality Cucciolotta products had already existed for about ten years, then we decided to create a company on purpose. to create and develop a whole series of projects. At the beginning we had a couple of kennels but then since we decided to develop other products in 2016 we have created a real brand and since then we have developed more than thirty products.
So you already existed you have only decided to do a rebranding, just a corporate restructuring but is it always you who have been producing these products for 10 years?
Yes, there are new staff, but it's still us.
How do you see the future of this sector?
Honestly well enough, we see that the demand is constantly increasing, and therefore gives us hope for the next few years. The demand for quality products grows because people prefer to spend a little more, but have the guarantee of a product that gives you clearly superior qualitative elements.
Do you have any future projects that you want to anticipate?
We design some new products every year. We have several products in the yard for garden furniture, always designed with this material and with this system of joints, without the need for tools to be able to assemble them. We already have several prototypes in the pipeline but we haven't been able to commercialize them yet, but over the course of 1 or 2 years we plan to develop them.
Another very interesting sector is that of bee hives. We are working on it but it's not that easy. It is a very very sensitive sector that is booming, but there are technical specifications that we are trying to understand and evaluate to see if the HPL is better than the products that are out there now. We are always at the forefront and looking for new products, of course you have to find the right one.
All our products are present on our site, which among other things we have decided to modify and change, creating two different sites dedicated to our products. We have tried to divide the farm products from products for dogs and cats. The products of the farm can be found on the site Cucciolotta.com while pet products on Puppy.dog we have tried to improve the visibility of the products even more by providing more details to the customer precisely to make them understand immediately what they have in front of them. In the last few years we are working a lot with foreign countries and we tried to use a language that could also speak through images, in addition to texts, in order to make everyone understand the quality of our products. You can also visit our Instagram page.
For special requests we are at your disposal and we are open to any suggestions from customers. Do not hesitate to contact us, we will reply as soon as possible!
See all
Viva Digitall® services